"Science and Society" Conference Cycle
In order to show the public the results of scientific research undertaken by faculty and research staff, the ACUP has, since 2008, promoted a series of lectures which have involved more than twenty prominent researchers from public universities and research centres.
Pedro Alonso, Lluis Torner, Mateo Valero, Josep Antoni Grífols, Teresa Capell, Manel Esteller, Joan Manuel del Pozo, Anna Cabré, Eudald Carbonell and Joan Subirats are some of the participants in this conference cycle. It was organised by the eight public universities in cooperation with Fundació la Caixa and supported by the Commission for Universities and Research of the Generalitat de Catalunya.
The talks addressed a wide range of topics
From the origins of the great apes in Hostalets de Pierola to 21st century supercomputing and the particle accelerator, passing through human evolution in the digital age, the relationship between physics and film and democratic disaffection in times of crisis; these talks have engaged in a wide range of topics with a common background: the emphasis on the social interest of scientific research carried out in Catalonia.
All speakers presented the findings of their work in a clear and understandable manner, highlighting the social aspect of research progress and the contribution to explaining and transforming reality. The 39 lectures were held at the CosmoCaixa centres in Barcelona, CaixaForum in Lleida and Tarragona and the Fundació la Caixa in Girona. To expand the contents of the lectures and widen the audience, the ACUP interviewed participating researchers and published articles on each topic being discussed.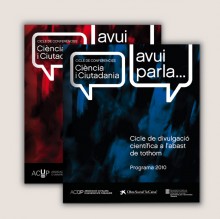 The speakers presented the findings of their work in a clear and understandable manner, highlighting the social aspects of research progress
You may also be interested in...
We are facing a new world era, with realities such as economic globalisation, the climate emergency, shortcomings in the welfare state, the consolidation of knowledge as a critical factor of progress, new and old inequalities, the transformation of the world of work, the rise of populism and the...

The Childre'ns University of Catalonia (Udn2.cat) participated in the conference organized by SIS Catalyst in Tartu, Estonia, from 23 to 26 April. Thirty members from 23 countries participated in the meeting in order to learn, discuss and design activities for children to promote the improvement of...

The Children's University of Catalonia (UdN2.cat) opens a new programm for the dissemination of science among elementary students. On Monday, March 4, the first conference focused on 'The Science of Comics' was held by Jordi Ojeda, UB professor and expert in the world of comics. Throughout the...

Universities open their doors to primary school students and their families with the Children's University of Catalonia Programme (udn2.cat), known as...