Institutional Trips
One of the most important activities carried out by ACUP, within the International Relations Plan, is to promote the Catalan university system in the world and, at the same time, learn from other university systems.
Every year, ACUP organizes an institutional trip with the Secretary of Universities and Research in a different city to present the Catalan system and learn from the system of the country of destination with the aim of improving both and creating spaces of collaboration between universities. In addition, a few months before the trip, ACUP elaborates a precise document on the university system of the country of destination that analyzes the organization of the university system: basic country data, background, students, financing, governing bodies in universities, structure of studies, university governance, innovation and research system, internationalization and university-business cooperation. Institutional trips have been organized to countries such as Israel, the United States, the Netherlands, Austria, Denmark, Ireland, etc.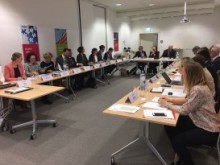 You may also be interested in...
Catalan public universities, together with the other universities in the higher education system of Catalonia, have participated in the Conference of the European Association for International Education (EAIE) "Community Exchange" which was held from 14 to 16 October 2020 in virtual format...

Universities play a major role in contributing to social transformation and sustainable development through three missions: training, scientific research and innovation. For the first time, this role is reflected in the formulation of the Sustainable Development Goals. In this context, Catalan...

About 30 representatives from universities of Catalonia participated at the informative session on Canada's higher education and research system on February 20th and the trends and strategies for attracting students underway in Canada and The Netherlands. The Catalan Association of Public...

A new meeting of the European consortium, hosted by the ACUP, took place on 3 and 4 December at the headquarters of the Fábrica del Sol in Barcelona, an environmental education facility promoted by the Barcelona City Council's Department of Ecology, Urban Planning and Mobility. This meeting was a...