Launch of the dossier resulting from the cycle of debate 'Sense and value of the humanities in the 21st century'
Under the scientific direction of Professor Joan Manuel del Pozo, the Catalan Association of Public Universities (ACUP) coordinated the cycle between April 2019 and January 2020 with the Palau Macaya of "la Caixa" Welfare Projects of debate Sense and value of the humanities in the 21st century. The dossier resulting from this cycle is now available here.
The cycle proposed to generate a space for reflection and exchange of ideas on the challenges that society must face in the 21st century and the role that the humanities have in these challenges, with a prominent emphasis on the debate on the humanities in the education system at all stages.
In the published dossier you can consult the reflections and conclusions that emerged from the different conferences and seminars that made up the cycle of debates and that served to analyze the humanities and their role in improving training, the vital practices of people in the 21st century. and the drive for a more responsible and democratic society.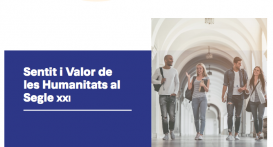 You may also be interested in...
On the 20th and 21st of June, the DECODE consortium met in Riga, Latvia, for the first in-person meeting. The ACUP team attended the gathering as leaders of the project dissemination and of the last Intellectual Output (IO) to be delivered, which will be executed in the coming months. Our Erasmus+...

From the 24th to the 26th of May ACUP-GUNi participated at the transnational project meeting of the SHEFCE project in Brussels. The meeting was held at the Vrije Universiteit Brussels (VUB) and around 10 participants from Croatia, Austria, Belgium, Ireland, and Spain participated representing the...

Between the 30th of May and the 1st of June, the TeRRIFICA Consortium has met in Poznan for an in-person meeting, the first since the Covid-19 pandemic started. The project, which is now coming to an end, has been an incredible experience filled with research, innovation, climate action and citizen...

The training week, organised by the Politecnico di Milano, was held at the premises of the Université Centrale Supélec in Paris-Saclay. The Politecnico di Torino and a number of Tunisian universities and institutions involved in the project, such as the ENIT of Tunis el Manar, the IGSi of Sfax, the...