Launch of the dossier resulting from the cycle of debate 'Sense and value of the humanities in the 21st century'
Under the scientific direction of Professor Joan Manuel del Pozo, the Catalan Association of Public Universities (ACUP) coordinated the cycle between April 2019 and January 2020 with the Palau Macaya of "la Caixa" Welfare Projects of debate Sense and value of the humanities in the 21st century. The dossier resulting from this cycle is now available here.
The cycle proposed to generate a space for reflection and exchange of ideas on the challenges that society must face in the 21st century and the role that the humanities have in these challenges, with a prominent emphasis on the debate on the humanities in the education system at all stages.
In the published dossier you can consult the reflections and conclusions that emerged from the different conferences and seminars that made up the cycle of debates and that served to analyze the humanities and their role in improving training, the vital practices of people in the 21st century. and the drive for a more responsible and democratic society.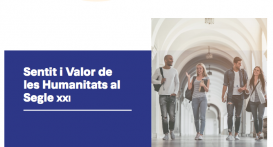 You may also be interested in...
Catalan public universities, together with the other universities in the higher education system of Catalonia, have participated in the Conference of the European Association for International Education (EAIE) "Community Exchange" which was held from 14 to 16 October 2020 in virtual format...

The new website of the Reports on Indicators and Impacts of Catalan public universities is available at www.indicadorsuniversitats.cat The website includes the 9 reports published by the Catalan Association of Public Universities from 2011 to the present. Through the periodic publication of these...

After the agreement between President Torra and the Rectors of the Catalan universities to extend online classes in April and May, the President of the ACUP emphasizes that the Catalan public university system is looking to give a rapid response to adapt to the new situation of university centres...

Universities play a major role in contributing to social transformation and sustainable development through three missions: training, scientific research and innovation. For the first time, this role is reflected in the formulation of the Sustainable Development Goals. In this context, Catalan...