The ACUP joins the CHARM European University alliance
The Catalan Association of Public Universities (ACUP) has recently joined as an associate partner in the CHARM European University alliance, led by the University of Barcelona (UB).
The CHARM-EU (Challenge-driven, Accessible, Research-Based and Mobile European University) is an accessible, mobile, research-based and challenging European university. It is a joint initiative of five research-focused universities: the University of Barcelona, ​​Trinity College Dublin, Utrecht University, Eötvös Loránd University in Budapest and the University of Montpellier. It was created to become a global example of a model of good practice to increase the quality, international competitiveness and attractiveness of the European higher education landscape. CHARM-EU is working to create an innovative university model capable of embracing the changes needed to meet societal challenges, removing borders and linking local solutions to global ones.
The CHARM-EU mission, signed by all the universities in the alliance, emphasizes that it wants to empower students to become "European citizens" capable of providing solutions to global challenges, most of which are related to the SDGs. Therefore, throughout the project, an academic offer is being set up that will cover the whole spectrum of university programs based on the European values ​​of freedom, autonomy and respect for human rights.
Among the distinguishing features is the power given to students to shape their curriculum and choose the learning modules based on their interests and the social needs they want to meet. These modules are taught in several of the five universities that make up the network, in person and online, and are characterized by the use of innovative and digitally intensive learning strategies.
More information: www.charm-eu.eu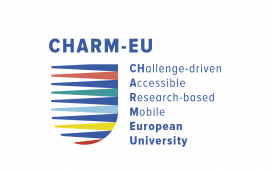 You may also be interested in...
The CHARM-EU (Challenge-driven, Accessible, Research-Based and Mobile European University) is an alliance formed by five research-based universities.

The Catalan university system, represented by the Secretary of Universities and Research of the Catalan Government, Francesc Xavier Grau, the general secretary of the Interuniversity Council of Catalonia (CIC), Lluís Baulenas, representatives of the universities and the ACUP, participate in the 30th...

On Thursday, February 15, ACUP and Scholars at Risk (SAR) organised a seminar on "Academic Freedom and Protection of Academic Refugees" at Pompeu Fabra University (UPF). The seminar began with the welcome by Josep M. Vilalta (Executive Secretary of the ACUP) and Pablo Pareja (Vice Chancellor of the...

The new website of the Reports on Indicators and Impacts of Catalan public universities is available at www.indicadorsuniversitats.cat The website includes the 9 reports published by the Catalan Association of Public Universities from 2011 to the present. Through the periodic publication of these...