Second edition of the MOOC entrepreneurial course "How to create your company"
The registration for the second edition of the MOOC entrepreneurial course "How to create your company" developed by all Catalan public universities i Open. The objective of the course is to offer tools to acquire skills and knowledge about key concepts to carry out a business project and useful for professional practice. The course will begin on March 25, 2019.
The MOOC "How to create your company", which is free, is structured in three modules, with the objective of creating and validating a Business Model (15 sessions). Each session / lesson consists of a video of about 6-7 minutes, a questionnaire and other additional material. The duration of the entire course is three weeks with a dedication of 4 hours a week.
This edition of the course is promoted by the Catalan Foundation for Research and Innovation, Catalunya Emprèn and within the framework of the Platform Knowledge, Territory and Innovation (Platform CTI) initiative, coordinated by the Catalan Association of Public Universities (ACUP).
A free certificate will be given to anyone who passes the course.
Inscriptions and more information: https://mooc.fundaciorecerca.cat/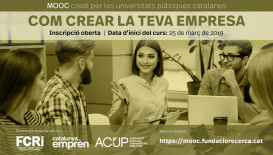 You may also be interested in...
The ACUP has organized the work session "Reforming the government of universities in a moment of change. The experience of the Université du Montréal (Québec)" with the collaboration of the Social Council of the Polytechnic University of Catalonia (UPC) in the historical building of the University...

The Catalan university system, represented by the Secretary of Universities and Research of the Catalan Government, Francesc Xavier Grau , the general secretary of the Interuniversity Council of Catalonia (CIC), Lluís Baulenas , representatives of the universities and the ACUP, participate in the...

The Universitat de Barcelona (UB) , the Universitat Autònoma de Barcelona (UAB) and the Universitat Pompeu Fabra (UPF) are among the top 300 universities in the world according to the prestigious Times Higher Education World University Rankings 2016 . The UAB appears in the position 163 (last year...

David Bueno and Gemma Marfany claimed there is a need for dissemination, yesterday at the university during the ceremony in which they were awarded ex aequo the 6th Award of the Doctors' Senate and Board of Trustees to the best scientific and humanities dissemination activities. The ceremony was...