Eight public university degrees in Catalonia, among the 50 best in the world of its discipline
Eight degrees offered by the Catalan public universities are among the Top 50 best in the World in their discipline according the Quacquarelli Symonds ranking (QS). This ranking annually analyzes the best universities in general terms but also by specialties, as is the case, paying special attention to the research carried out in universities (the QS ranking analyzes the reputation among academics, the fame of the teachers and the quality of the researchers based on the citations of their articles, among other factors).
According to these criteria, four Catalan public universities are referents worldwide in some specialties. Thus, the UB is the Catalan university with the highest degrees in this ranking, as it is one of the 50 best universities in the world in 4 disciplines: anatomy and physiology (position 21), archeology (33), philosophy (46) and education (49). The degree of architecture (22) and engineering (34) of the UPC are also the 50 best in the world in their specialty, as is the degree in veterinary sciences taught at the UAB, which appears on the site 31. In economic matters, the economy of the UPF stands out.
The results, which show the leadership of the British and American universities and where Asian centers begin to emerge, represent a significant improvement for Catalan public universities, which have doubled positions in two years. In 2015 only 5 Catalan degrees managed to become a place in the Top 50 for specialties. That year, the QS index placed the architectural and engineering degrees of the UPC, a veterinarian of the UAB, ​​an economics of the UPF and a philosophy of the UB.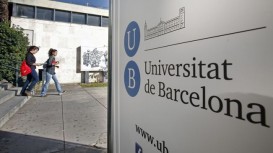 You may also be interested in...
Pompeu Fabra University professors Jordi Alonso , Roderic Guigó and Àngel Lozano appear in the list of the world's most influential scientists published by Clarivate Analytics , a company that provides services in research, patents and other areas related to innovation. The Highly Cited Researchers...

Alejandro Jadad graduated in Medicine and went on to do a DPhil. He is now the director of the University of Toronto's Institute for Global Health Equity and Innovation and the founder and director of eHealth Innovation at UHN , a world-leading eHealth centre in Canada. Of Lebanese descent, he was...

The Universitat de Barcelona (UB) , the Universitat Autònoma de Barcelona (UAB) and the Universitat Pompeu Fabra (UPF) are among the top 300 universities in the world according to the prestigious Times Higher Education World University Rankings 2016 . The UAB appears in the position 163 (last year...

The Universitat Oberta de Catalunya (UOC) has launched the first academic centre in southern Europe specializing in eHealth, the eHealth Center , at an act held in the Sala Europa of the Representation of the European Commission in Barcelona. The act was attended by Josep A. Planell , President of...