The Mastermind Europe project
The European Mastermind project aims to improve the national and European mobility of master's students, moving from an admission model based on the recognition of qualifications to a competency-based admission.
The Mastermind European project is an Erasmus Plus Programme, coordinated by the University of Amsterdam (Amsterdam Vrije Universieit) with the participation of the Academic Cooperation Association (ACA), the Conference of German Rectors and Higher Education institutions from Austria, Finland, Italy, Lithuania and Slovenia. The aim of the ACUP participation in this project is to improve national and European mobility of master's students, moving from a model of admission based on the recognition of qualifications towards a competency-based admissions' one. The project runs for three years and within its frame ACUP is responsible for organizing two focus groups of master coordinators from France, Spain and Portugal in order to assist them with the preparation of an action plan to promote skills-based admission in their institutions.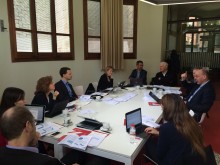 You may also be interested in...
Mastermind Europe was set up to respond to the need for a better way to decide which students are suitable for which Master's programme. Fewer and...

The training week, organised by the Politecnico di Milano, was held at the premises of the Université Centrale Supélec in Paris-Saclay. The Politecnico di Torino and a number of Tunisian universities and institutions involved in the project, such as the ENIT of Tunis el Manar, the IGSi of Sfax, the...

Barcelona, 13 May 2022- This morning, at a press conference held in the Pau Gil Hall of the Art Nouveau Site of San Pablo, the World Higher Education Week 2022, to be held from 16 to 20 May in Barcelona, was kicked off. This week has been timed to coincide with the UNESCO World Conference on Higher...