Map of university cooperation
The map of university cooperation is promoted by the ACUP to give greater visibility to the cooperation activities carried out at the university level and to locate geographically the scope of action of university cooperation while providing specific data on all each of the projects.
This map allows to locate geographically the field of action of the university cooperation at the same time as it contributes concrete data of each and every one of the projects, as they are: university or driving center, objectives of the project, field of action, partners and associated counterparts, location of the actions developed, as well as the periodization of the project.
The map of university cooperation has been promoted by the public universities of the ACUP with the aim of giving greater visibility to the cooperation activities carried out at the university level. This new tool will allow better coordination between universities and the promotion of new collaboration frameworks for the realization of joint projects with other universities and public bodies in the different regions. It will also facilitate the degree of knowledge of the university community, NGOs and society in general about the projects and areas of cooperation carried out by the ACUP universities. It is a living map open to new contributions and additions. Anyone working on an initiative that has not yet been picked up is welcome to contact us to add it and complete the map.
The elaboration of this map is part of the Joint Communication Strategy for University Development Cooperation promoted by the ACUP and has the collaboration of the Agència Catalana de Cooperació al Desenvolupament (ACCD).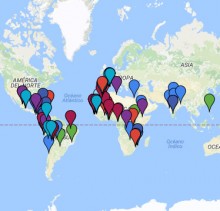 You may also be interested in...
The training week, organised by the Politecnico di Milano, was held at the premises of the Université Centrale Supélec in Paris-Saclay. The Politecnico di Torino and a number of Tunisian universities and institutions involved in the project, such as the ENIT of Tunis el Manar, the IGSi of Sfax, the...

Barcelona, 13 May 2022- This morning, at a press conference held in the Pau Gil Hall of the Art Nouveau Site of San Pablo, the World Higher Education Week 2022, to be held from 16 to 20 May in Barcelona, was kicked off. This week has been timed to coincide with the UNESCO World Conference on Higher...

On Thursday, February 15, ACUP and Scholars at Risk (SAR) organised a seminar on "Academic Freedom and Protection of Academic Refugees" at Pompeu Fabra University (UPF). The seminar began with the welcome by Josep M. Vilalta (Executive Secretary of the ACUP) and Pablo Pareja (Vice Chancellor of the...

On March 2 was held at the Open University of Catalonia the Debate and Reflection Seminar on university cooperation with Mozambique. The objective of this seminar was to identify the main fields of interest from the Catalan academic and scientific community to collaborate with the African country...