Interuniversity Consortium for University Management (CIGU)
The Interuniversity Consortium for University Management (CIGU) was created within the framework of the University Cooperation Program with Africa. Through the CIGU, various university cooperation projects are carried out with the aim of establishing long-term collaboration links between Catalan universities and African universities that are members of the consortium in order to strengthen their capacities in the fields. training, research and knowledge transfer.
The Catalan universities that are part of the consortium are the member universities of the ACUP:
The member African universities in the consortium are: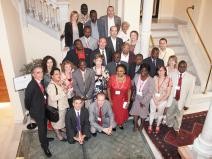 You may also be interested in...
The DIGU project aimed to establish stable relationships with African universities, strengthen the institutional capacities of participating...

The training week, organised by the Politecnico di Milano, was held at the premises of the Université Centrale Supélec in Paris-Saclay. The Politecnico di Torino and a number of Tunisian universities and institutions involved in the project, such as the ENIT of Tunis el Manar, the IGSi of Sfax, the...

Barcelona, 13 May 2022- This morning, at a press conference held in the Pau Gil Hall of the Art Nouveau Site of San Pablo, the World Higher Education Week 2022, to be held from 16 to 20 May in Barcelona, was kicked off. This week has been timed to coincide with the UNESCO World Conference on Higher...

On Thursday October 31, the ACUP organized jointly with the International Association of Universities (IAU), the Open University of Catalonia (UOC) and Kenyatta University (KU) in Nairobi, Kenya, a workshop on doctoral programs and e-supervision. Among the participants of the workshop were the...