International Outreach
One of the key strategies of ACUP's International Relations Plan is to strengthen the international presence in forums, fairs, international organizations and supranational institutions to promote new alliances and promote the Catalan public university system.
ACUP actively participates year after year in the world's largest education fairs: EAIE, NAFSA, APAIE and also in international organizations such as the European University Association (EUA) and the International Association of Universities (IAU). In this way, the Catalan university system is promoted around the world, a differentiated brand is established and ACUP and its eight universities are present in the most important debate centers for the innovation and modernization of universities.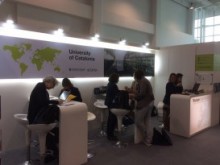 You may also be interested in...
Catalan public universities, together with the other universities in the higher education system of Catalonia, have participated in the Conference of the European Association for International Education (EAIE) "Community Exchange" which was held from 14 to 16 October 2020 in virtual format...

Universities play a major role in contributing to social transformation and sustainable development through three missions: training, scientific research and innovation. For the first time, this role is reflected in the formulation of the Sustainable Development Goals. In this context, Catalan...

About 30 representatives from universities of Catalonia participated at the informative session on Canada's higher education and research system on February 20th and the trends and strategies for attracting students underway in Canada and The Netherlands. The Catalan Association of Public...

A new meeting of the European consortium, hosted by the ACUP, took place on 3 and 4 December at the headquarters of the Fábrica del Sol in Barcelona, an environmental education facility promoted by the Barcelona City Council's Department of Ecology, Urban Planning and Mobility. This meeting was a...