Asylum 2030: Catalan public universities for a right to asylum with a gender focus
Catalan public universities, members of the ACUP, work together to support refugees
The project "Asylum 2030: Catalan public universities for a right to asylum with a gender focus" aims to promote a university community sensitized, trained and mobilized around the human rights of people affected by forced displacement in the framework of the 2030 Agenda in Catalan public universities.
Promoted by UNHCR (UN Refugee Agency - Catalan Committee), the project consists of the following main actions:
"Universitat, Som refugi" ("University, we are shelter") campaign: a digital awareness campaign aimed at promoting the defense of the rights of people affected by forced displacement in the university context.

Workshops: Refuge, Agenda 2030 and digital campaigns: theoretical and practical training aimed at university students (30 students / approx. 25 hours).
Agora Asylum 2030: Interuniversity Conference on Refuge and Agenda 2030 in the field of higher education from the perspective of the EpCG:

Sessions to give visibility to EpCG success stories in the field of asylum in universities.
Collective building sessions on strategies to continue working the Shelter from the EpCG approach at the university level.

Participation in Higher Education networks, such as the Global University Network for innovation (GUNi)
For further information, please visit the website somrefugi.org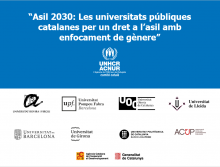 You may also be interested in...
With the "University, We Are Shelter" campaign, we want to respond to the misinformation and false myths surrounding refugees in order to deal with xenophobic discourses. Promoted by the UNHCR (UN Refugee Agency - Catalan Committee) and with the participation of Catalan public universities, the...

The Catalan public universities, ACUP members, work together to support refugees.

The ACUP has adhered to the European Citizen Initiative "We are a welcoming Europe: let us help!" In order to achieve its processing, one million signatures of European citizens before 15 February 2019 (ideally before the end of years) are required in at least 7 member states of the European Union...

The Association of Catalan Public Universities took part on Thursday, December 10, 2015 on the 48th European Seminar of the Academic Cooperation Association (ACA) held in Brussels. The central issue of the Seminar was "The international refugee crisis. What role for European higher education?". The...