The universities committed and responsible at the Annual EUA Conference
The European University Association (EUA) celebrates its 2018 Annual Conference, a space for debate that hosts the heads of the European university system. This year, the theme of the event is "Compromised and responsible universities that make up Europe". Pastora Martínez Samper, UOC Vice President of Globalization and Cooperation, has participated as representative of the Catalan Association of Public Universities (ACUP).
Martínez Samper participated in the work session "The role of public policies to promote social responsibility and the citizen involvement of universities", where examples of public policies have been presented at all levels - regional, national and European - to encourage to make the universities more connected and attentive to the needs of the society of their surroundings.
The annual EUA conferences are a platform that brings together institutional representatives of universities across Europe, researchers, students, politicians and interest groups associated with the objective of facilitating networking, obtaining information on trends and developments and focusing on European public policies.
The EUA currently represents more than 850 institutions and higher education associations in 47 countries. This year, the Annual Conference will be based on the previous work of the EUA with its members, on various issues related to the social mission of universities, the generation of knowledge, the development of intercultural understanding and the promotion of civic commitment in education, research and innovation.
Source: UOC / ACUP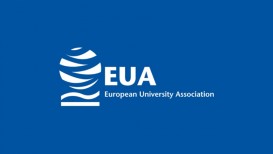 You may also be interested in...
ACUP and the Interuniversity Council of Catalonia have organised the Catalan presence at the 13th annual conference and education fair of the Asia-Pacific Association for International Education (APAIE), lead by the National University of Singapore and three local reception universities, from March...

Universities play a major role in contributing to social transformation and sustainable development through three missions: training, scientific research and innovation. For the first time, this role is reflected in the formulation of the Sustainable Development Goals. In this context, Catalan...

About 30 representatives from universities of Catalonia participated at the informative session on Canada's higher education and research system on February 20th and the trends and strategies for attracting students underway in Canada and The Netherlands. The Catalan Association of Public...

The Catalan university system, represented by the Secretary of Universities and Research of the Catalan Government, Francesc Xavier Grau, the general secretary of the Interuniversity Council of Catalonia (CIC), Lluís Baulenas, representatives of the universities and the ACUP, participate in the 30th...