Seminar discussion and reflection on university cooperation is held with Morocco
On February 18 he was held at the University of Girona Seminar of reflection and debate on university cooperation with Morocco. The main objective of this seminar was to identify the main interests of the Catalan academic and scientific community to collaborate with Morocco. The seminar, organized by the ACUP, was attended by thirty participants, including professors and researchers with experience in cooperating with Morocco, responsible for the offices of international relations and development cooperation Catalan public universities and the consul of Morocco in Girona and a number of experts and representatives of the Catalan Agency for Development Cooperation (ACCD), the Agency for Administration of University and Research Grants (AGAUR), the Inter-University Council of Catalonia (CIC) and the Union for the Mediterranean.
This seminar is part of the process of developing the strategy of university cooperation with Morocco that aims to strengthen partnerships with two of the priority countries for Catalan cooperation, Morocco and Mozambique, and has the support of the Catalan Agency Development Cooperation (ACCD).
For more information on the country strategy, you can see this link.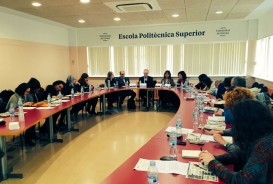 You may also be interested in...
The training week, organised by the Politecnico di Milano, was held at the premises of the Université Centrale Supélec in Paris-Saclay. The Politecnico di Torino and a number of Tunisian universities and institutions involved in the project, such as the ENIT of Tunis el Manar, the IGSi of Sfax, the...

Barcelona, 13 May 2022- This morning, at a press conference held in the Pau Gil Hall of the Art Nouveau Site of San Pablo, the World Higher Education Week 2022, to be held from 16 to 20 May in Barcelona, was kicked off. This week has been timed to coincide with the UNESCO World Conference on Higher...

On March 2 was held at the Open University of Catalonia the Debate and Reflection Seminar on university cooperation with Mozambique. The objective of this seminar was to identify the main fields of interest from the Catalan academic and scientific community to collaborate with the African country...

The Association of Catalan Public Universities has pubished the 'Socio-Urban Diagnosis of the Mayard District in Jacmel, Haiti' report. The publication exposes the results of the ACUP, "La Caixa" Foundation and the Barcelona City Council project conducted jointly with the City of Jacmel and the...