Second edition of the MOOC entrepreneurial course "How to create your company"
The registration for the second edition of the MOOC entrepreneurial course "How to create your company" developed by all Catalan public universities i Open. The objective of the course is to offer tools to acquire skills and knowledge about key concepts to carry out a business project and useful for professional practice. The course will begin on March 25, 2019.
The MOOC "How to create your company", which is free, is structured in three modules, with the objective of creating and validating a Business Model (15 sessions). Each session / lesson consists of a video of about 6-7 minutes, a questionnaire and other additional material. The duration of the entire course is three weeks with a dedication of 4 hours a week.
This edition of the course is promoted by the Catalan Foundation for Research and Innovation, Catalunya Emprèn and within the framework of the Platform Knowledge, Territory and Innovation (Platform CTI) initiative, coordinated by the Catalan Association of Public Universities (ACUP).
A free certificate will be given to anyone who passes the course.
Inscriptions and more information: https://mooc.fundaciorecerca.cat/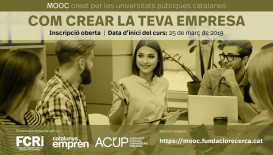 You may also be interested in...
UNESCO's World Conference on Higher Education is held every 10 years. This year it leaves Paris for the first time and we are hosting it in Barcelona. UNESCO trusted ACUP/GUNi to make this event possible in our country. The digital media of the Barcelona City Council have interviewed the Executive...

The new website of the Reports on Indicators and Impacts of Catalan public universities is available at www.indicadorsuniversitats.cat The website includes the 9 reports published by the Catalan Association of Public Universities from 2011 to the present. Through the periodic publication of these...

The ACUP has organized the work session "Reforming the government of universities in a moment of change. The experience of the Université du Montréal (Québec)" with the collaboration of the Social Council of the Polytechnic University of Catalonia (UPC) in the historical building of the University...

The Catalan university system, represented by the Secretary of Universities and Research of the Catalan Government, Francesc Xavier Grau, the general secretary of the Interuniversity Council of Catalonia (CIC), Lluís Baulenas, representatives of the universities and the ACUP, participate in the 30th...