Open registration to training for university staff who want to integrate virtual exchange into their teaching
The FRAMES project (the ACUP is an Associate Partner) offers a free training offer during the month of May, open to participating institutions but also to anyone who is interested. This training will combine both synchronous sessions and personal work.
"The 'FRAMES Collaborative online Training on Virtual Exchange and blended mobility integration' aims to develop the participants' capacity to design, implement, assess and multiply relevant mobility schemes enriched by Virtual Exchange (VE). As such, the course is not meant to teach how to design and implement VE projects but rather on the opportunities linked to the integration and accreditation of this innovative pedagogy within the institutional strategies."
Registration and more information: https://frames-project.eu/outputs/online-training-on-virtual-exchange/open-edition/
Imatges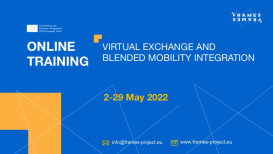 You may also be interested in...
The FRAMES project aims to promote a harmonized implementation and accreditation of virtual exchange, as an integral part of (combined) approaches to...

The Catalan Association of Public Universities (ACUP) has recently joined as an associate partner in the CHARM European University alliance, led by the University of Barcelona (UB). The CHARM-EU (Challenge-driven, Accessible, Research-Based and Mobile European University) is an accessible, mobile...

Catalan public universities, together with the other universities in the higher education system of Catalonia, have participated in the Conference of the European Association for International Education (EAIE) "Community Exchange" which was held from 14 to 16 October 2020 in virtual format...

Universities play a major role in contributing to social transformation and sustainable development through three missions: training, scientific research and innovation. For the first time, this role is reflected in the formulation of the Sustainable Development Goals. In this context, Catalan...