The GUNi 6th Higher Eduaction in the World Report will be presented at the ACA-CMEPIUS Conference 2019
On October 17th 2019, Josep M. Villata will present GUNi's 6th Higher Education in the World Report at the CMEPIUS Conference held by the Academic Cooperation Association in Slovenia. This conference, will take place in Bled on October 17-18th, one of the most beautiful villages in the world and which is located at only two dozen miles away from the airport of Slovenia´s capital.
The 6th HEIW Report deals with the dual responsibilities of universities at local and global scale, exploring the potential conflict, or intrinsic difficulties, in addressing both local demands of society based on the race for global competitiveness and local and global demands to contribute to a more equitable and sustainable society, at local and global scales. 86 experts from 28 countries have contributed to a dissection of the topic and the identification of good practices that can help academic leaders and policy-makers to realize the highest purposes of education and research.
The presentation of the 6th HEIW will be part of the presentation of other projects, studies and initiatives at the international and local level that have taken place. In addition, parallel sessions will focus on jointly discussions of devising a possible ´third mission 'projects by means of European and international cooperation.
GUNi's presence at the conference is of significant importance as we have been major actors and promotors of community engagement, such as partners of the TEFCE project, which is a EU-funded project that proposes new policy tools to assess the community engagement of universities.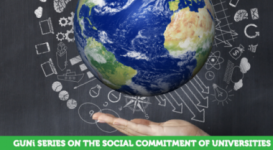 You may also be interested in...
Barcelona, 13 May 2022- This morning, at a press conference held in the Pau Gil Hall of the Art Nouveau Site of San Pablo, the World Higher Education Week 2022, to be held from 16 to 20 May in Barcelona, was kicked off. This week has been timed to coincide with the UNESCO World Conference on Higher...

On October 4th 2019, the Group of Experts presented its second publication devoted to the implementation of SDGs at Higher Education Institutions, in a public event at the Ateneu Barcelonès in Barcelona. More than 85 people attended the event, which promised to be an enriching experience and...

The 2030 Agenda requires effective collaborations between all stakeholders in order to achieve the seventeen Sustainable Development Goals (SDGs). Only through close collaboration, can there be any possibility of finding global solutions to the world's current and future challenges. Partnerships are...

The Scholars at Risk (SAR) Global Congress 2018 was convened on April 23-26 at Freie Universität Berlin (Germany) with the collaboration of the same university and the Alexander von Humboldt Foundation. ACUP and the Catalan public universities joined the international network in June 2017. Since...