Free to Think 2017: anti-democratic trends driving increasted attacks on Higher Education worldwide
The network Scholars at Risk (SAR) has released Free to Think 2017, an annual report analyzing 257 reported attacks on higher education communities in 35 countries, from September 1, 2016, to August 31, 2017. ACUP and its universities joined Scholars at Risk (SAR) on June 2017, in order to stand in solidarity with educators, researchers and students around the world who are threatened for peacefully expressing ideas and asking questions and to demonstrate ACUP's commitment and responsibility to preserving and promoting the freedom to think, locally and globally.
"Over the past year, we have witnessed a continuing global crisis of attacks on higher education communities as documented in our previous reports. What has become increasingly clear this year is an anti-democratic fear of universities as spaces in which everyone is free to think, question, and share ideas," said Robert Quinn, SAR's Executive Director. According to Mr. Quinn, Free to Think 2017 "highlights the toll of these attacks on individual lives and serves as a clarion call to meaningful action for states and civil society to ensure the security, well-being, and sustainable future of the university space."
Free to Think 2017 summarizes 12 months of data collected by SAR's Academic Freedom Monitoring Project, and highlights six key, negative developments facing higher education around the world:
• violent attacks on scholars, students, and their institutions by armed groups and individuals, especially in Nigeria and Pakistan;
• sweeping actions against higher education communities in Turkey by state and higher education officials;
• violent repression of organized student expression around the world, especially in South Africa, Zimbabwe, and Thailand;
• deteriorating conditions for higher education in Venezuela, where student-led protests have been met by state violence and arrests;
• widespread restrictions on scholars' and students' ability to travel freely for academic purposes; and
• legislative and administrative attempts to shut down or otherwise censor teaching and research institutions in Central and Eastern Europe.
SAR's report demonstrates the extent to which higher education is often a focal point for violent and coercive attacks and is dangerously exposed under authoritarian regimes and in conflict settings. The report calls on responsible states, higher education leaders, and civil society to recognize the problem of attacks on higher education institutions, scholars, and students and to reaffirm publicly their commitment to academic freedom and the principle that everyone should be free to think, question, and share ideas.
Links: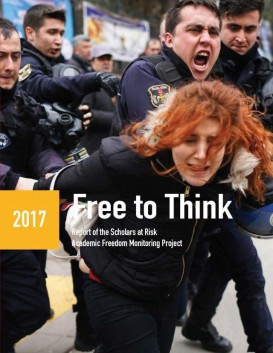 You may also be interested in...
ACUP and its universities –as network partner- have joined Scholars at Risk (SAR), a network of over 400 higher education institutions in 39 countries working to protect threatened scholars, prevent attacks on higher education and promote academic freedom. By joining SAR, we stand in solidarity with...

The Scholars at Risk (SAR) Global Congress 2018 was convened on April 23-26 at Freie Universität Berlin (Germany) with the collaboration of the same university and the Alexander von Humboldt Foundation. ACUP and the Catalan public universities joined the international network in June 2017. Since...

On 6, 7 and 8 February 2018 over 200 conferences in different teaching centres will be offered on all the UAB's bachelor's degrees, including new academic programmes. The conference will be given by UAB professors. It is the best way to discover first-hand the academic programme each student is...

UNESCO's World Conference on Higher Education is held every 10 years. This year it leaves Paris for the first time and we are hosting it in Barcelona. UNESCO trusted ACUP/GUNi to make this event possible in our country. The digital media of the Barcelona City Council have interviewed the Executive...