The FAS opens a call for grants for the prevention of violent extremism
The Fundació Autònoma Solidària (FAS) is opening a new call for grants to finance three official master's positions and a research position at the Universitat Autònoma de Barcelona (UAB) for the 2020-2021 academic year.
The call is open to women in refugee situations, belonging to the refugee or displaced community from Syria, Iraq or Iraqi Kurdistan. At the same time, the squares are aimed at generating knowledge in the field of prevention of violent extremism, with a gender focus.
In this way, interested parties will be able to enroll in a master's degree, doctorate or UAB research program of their choice as long as it corresponds to an area of ​​knowledge directly applicable to the prevention of violent extremism, peacebuilding and / or gender studies.
The scholarship will cover the complete exemption from tuition and other associated academic management fees, a monthly allowance for accommodation expenses (preferably at the UAB Villa), living expenses and a monthly allowance for student support. study (transport, teaching materials, etc.). The sum of the last three points will not, in any case, exceed € 950 per month per student.
The period for receiving applications will close on July 17, 2020, at 00.00h.
You will find more information on the FAS website.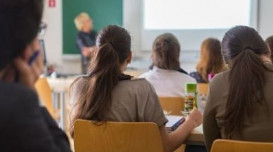 You may also be interested in...
The opening ceremony of the 2020–2021 academic year at Catalan universities, which was hosted remotely by the Universitat Politècnica de Catalunya · BarcelonaTech (UPC) this year and featured speeches by the secretary for Universities and Research, Francesc Xavier Grau; the rector, Francesc Torres...

The Centre Promotor d'Aprenentatge Servei (ApS) has called on all Primary and Secondary Education centres, as well as leisure institutions and social entities that wish to get involved, to carry out a service-learning activity in a confined situation in order to mitigate some of the consequences of...

"UPF feels fully called to act in view of the fact that the planet's natural resources continue to deteriorate at an unprecedented pace and recognizes this as an emergency that, as proposed by the UN, requires drastic strategies". This sentence is part of the institutional climate emergency...

David Bueno and Gemma Marfany claimed there is a need for dissemination, yesterday at the university during the ceremony in which they were awarded ex aequo the 6th Award of the Doctors' Senate and Board of Trustees to the best scientific and humanities dissemination activities. The ceremony was...