Eight public university degrees in Catalonia, among the 50 best in the world of its discipline
Eight degrees offered by the Catalan public universities are among the Top 50 best in the World in their discipline according the Quacquarelli Symonds ranking (QS). This ranking annually analyzes the best universities in general terms but also by specialties, as is the case, paying special attention to the research carried out in universities (the QS ranking analyzes the reputation among academics, the fame of the teachers and the quality of the researchers based on the citations of their articles, among other factors).
According to these criteria, four Catalan public universities are referents worldwide in some specialties. Thus, the UB is the Catalan university with the highest degrees in this ranking, as it is one of the 50 best universities in the world in 4 disciplines: anatomy and physiology (position 21), archeology (33), philosophy (46) and education (49). The degree of architecture (22) and engineering (34) of the UPC are also the 50 best in the world in their specialty, as is the degree in veterinary sciences taught at the UAB, which appears on the site 31. In economic matters, the economy of the UPF stands out.
The results, which show the leadership of the British and American universities and where Asian centers begin to emerge, represent a significant improvement for Catalan public universities, which have doubled positions in two years. In 2015 only 5 Catalan degrees managed to become a place in the Top 50 for specialties. That year, the QS index placed the architectural and engineering degrees of the UPC, a veterinarian of the UAB, ​​an economics of the UPF and a philosophy of the UB.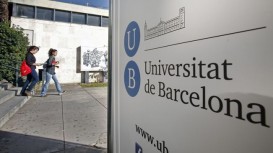 You may also be interested in...
Five Catalan public universities are among the ten Spanish universities (public and private) that render more acording to the Knowledge and Development Foundation (CYD) ranking. The ranking classifies 73 of the 82 universities that exist in Spain according to the number of performance indicators...

The new website of the Reports on Indicators and Impacts of Catalan public universities is available at www.indicadorsuniversitats.cat The website includes the 9 reports published by the Catalan Association of Public Universities from 2011 to the present. Through the periodic publication of these...

David Bueno and Gemma Marfany claimed there is a need for dissemination, yesterday at the university during the ceremony in which they were awarded ex aequo the 6th Award of the Doctors' Senate and Board of Trustees to the best scientific and humanities dissemination activities. The ceremony was...

On Wednesday, April 25th, the presentation of the SPEET project financed by the European Commission under Erasmus + will take place at Casa Convalescència (San Antoni Maria Claret, 171, Barcelona). The project, which is promoted by the Autonomous University of Barcelona in Catalonia with partners...