Dissemination of the DECODE Council Project in Paris
The training week, organised by the Politecnico di Milano, was held at the premises of the Université Centrale Supélec in Paris-Saclay. The Politecnico di Torino and a number of Tunisian universities and institutions involved in the project, such as the ENIT of Tunis el Manar, the IGSi of Sfax, the FSJEGJ of Jendouba and the ENIGA of Gafsa, also participated.
Beyond the dissemination of the DECODE project itself among other universities so that they can follow the project and join its Council, one of the main objectives pursued with this activity is to raise awareness of the need to integrate sustainable development in the strategic policies of the Universities.
The session has been received with great interest and has generated an important reflection on the implementation of sustainability policies in Higher Education Institutions.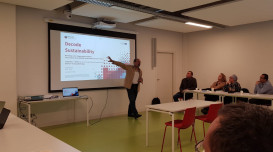 In the framework of the Training Week of the Erasmus+ NePRev Project, ACUP/GUNi has been invited to present the DECODE project as an example of how to impact on the sustainability of universities through Erasmus+ calls.
You may also be interested in...
The Catalan Association of Public Universities (ACUP) participates in the eLearning Africa - 8th International Conference on ICT for development, education and training, held on 29 to 31 May in Windhoek, Namibia. More than 1,300 participants attend to the meeting. During the conference the ACUP will...

Her Royal Highness the Infanta Cristina, Jaime Lanaspa, managing director of "la Caixa" Foundation, Francesc Xavier Grau, president of the Catalan Association of Public Universities (ACUP), Josep Maria Vilalta, executive secretary of the ACUP and Guy Tsala, vice President for Research and...

On Tuesday, February 28, was presented at the University of Yaounde I (UYI), Cameroon, the virtual platform Technipedia

www.technipedia.com

, one of the results from the Innovation and Entrepreneurship in Africa Program, driven by the Interuniversity Consortium Management University (CIGU) formed by...

On Thursday October 31, the ACUP organized jointly with the International Association of Universities (IAU), the Open University of Catalonia (UOC) and Kenyatta University (KU) in Nairobi, Kenya, a workshop on doctoral programs and e-supervision. Among the participants of the workshop were the...