Call for Applications to test the HEIRRI training materials
The HEIRRI project calls on higher education institutions from all continents interested in Responsible Research and Innovation and its integration into the curricula for a pilot test of two of the training programs and materials developed by the HEIRRI project. The selected institutions will pilot the testing of the HEIRRI materials in parallel with the Consortium member institutions (between June 2017 and April 2018). They will actively participate in the learning process, giving feedback on the materials and their use in their institutions.
The call offers to pilot the "Train-the-trainer" and one of the following of their choice.
The two best-evaluated applications will receive a scholarship of 2.000€ each (priority will be given to applications from developing countries) and up to 1.000€ for travel and accommodation expenses to participate in the second HEIRRI conference (April 2018). The awarded institutions will participate in the second HEIRRI Conference, where they will share their experiences with a wider audience and present future plans related to the introduction of RRI teaching in their institutions.
Applications will be accepted from 1st March to 30th April 2017 (both included). They must be submitted in English, together with an attached motivation statement, through this submission form.
Download the call for applications.
Information on each programme: Annex 1: Description of the programmes.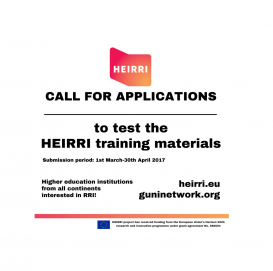 You may also be interested in...
The IAU 15th General Conference 'Higher Education: A catalyst for innovative and sustainable societies', held on 13-16th November 2016 in Bangkok, Thailand, focuses on sharing strategies and practices that demonstrate how higher education institutions contribute to innovation and sustainability. The...

The new HEIRRI database is now published online and available for everyone interested in RRI and RRI learning! The database compiles 23 exemplary cases related to RRI and RRI learning in higher education institutions, such as EU projects, different teaching/pedagogical approaches, programmes and...

From 3th to 5th May, 2016 in Cape Town will be held "Going Global 2016" Conference, an open forum that brings together world education leaders in order to connect ideas and promote answers about the trend issues on global higher and further education. HEIRRI will be present at the "Going Global 2016...

The first conference of the European project HEIRRI (Higher Education Institutions and Responsible Research and Innovation), entitled "Teaching Responsible Research and Innovation at University", has gathered on March 18th more than 150 people from all over the world to discuss about the integration...