We have already published new examples of Sustainable Development Goals
Take a look at the initiative showing Catalan public universities commitment to the 2030Agenda. 40 cases published as examples of university involvement with the Sustainble Development Goals!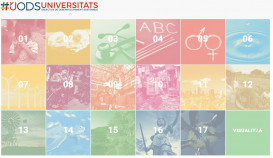 You may also be interested in...
The Catalan university system, represented by the Secretary of Universities and Research of the Catalan Government, Francesc Xavier Grau, the general secretary of the Interuniversity Council of Catalonia (CIC), Lluís Baulenas, representatives of the universities and the ACUP, participate in the 30th...

The Catalan university system, lead by the Catalan Government and ACUP, will participate in the 29th annual conference of the EAIE 2017 held in Seville, from September 12 to 15, 2017, with the participation of over 5,000 professionals from more than 80 countries around the world. The theme of this...

Universities play a major role in contributing to social transformation and sustainable development through three missions: training, scientific research and innovation. For the first time, this role is reflected in the formulation of the Sustainable Development Goals. In this context, Catalan...

This Thursday, 23 January 2020, the new board of directors of the Catalan Association of Public Universities (ACUP) has been constituted, which will be formed for a whole year by the rector of the Rovira i Virgili University, María José Figueras, as president; the rector of the Autonomous University...