'We are Research' disseminates the values of the work of the UB research teams
The Vice-rector of Research, Innovation and Knowledge Transfer of the University of Barcelona has produced the video 'We are Research', in order to disseminate the values of the excellent work carried out by the research teams of the UB. 'We are Research' is aimed at specialists as well as the general public and aims to reach especially future students and young researchers who want to participate in the enthusiasm, creativity, constancy and commitment of the research projects developed in the University of Barcelona.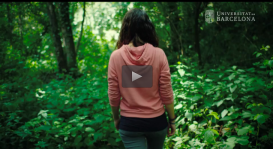 You may also be interested in...
The network Scholars at Risk (SAR) has released Free to Think 2017 , an annual report analyzing 257 reported attacks on higher education communities in 35 countries, from September 1, 2016, to August 31, 2017. ACUP and its universities joined Scholars at Risk (SAR) on June 2017, in order to stand in...

On 6, 7 and 8 February 2018 over 200 conferences in different teaching centres will be offered on all the UAB's bachelor's degrees, including new academic programmes . The conference will be given by UAB professors. It is the best way to discover first-hand the academic programme each student is int...

Pompeu Fabra University professors Jordi Alonso , Roderic Guigó and Àngel Lozano appear in the list of the world's most influential scientists published by Clarivate Analytics , a company that provides services in research, patents and other areas related to innovation. The Highly Cited Researchers...

The aim of this course is to disseminate concepts and basic concepts about open access, with a simple and informative language, providing a panoramic view of good practices, initiatives, standards and tools to publish, disseminate and preserve both publications and the data generated in the framewor...