'We are Research' disseminates the values of the work of the UB research teams
The Vice-rector of Research, Innovation and Knowledge Transfer of the University of Barcelona has produced the video 'We are Research', in order to disseminate the values of the excellent work carried out by the research teams of the UB. 'We are Research' is aimed at specialists as well as the general public and aims to reach especially future students and young researchers who want to participate in the enthusiasm, creativity, constancy and commitment of the research projects developed in the University of Barcelona.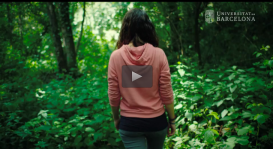 You may also be interested in...
Five Catalan public universities are among the ten Spanish universities (public and private) that render more acording to the Knowledge and Development Foundation (CYD) ranking . The ranking classifies 73 of the 82 universities that exist in Spain according to the number of performance indicators...

On Wednesday, April 25th, the presentation of the SPEET project financed by the European Commission under Erasmus + will take place at Casa Convalescència (San Antoni Maria Claret, 171, Barcelona). The project , which is promoted by the Autonomous University of Barcelona in Catalonia with partners...

Eight degrees offered by the Catalan public universities are among the Top 50 best in the World in their discipline according the Quacquarelli Symonds ranking (QS). This ranking annually analyzes the best universities in general terms but also by specialties, as is the case, paying special attention...

Alejandro Jadad graduated in Medicine and went on to do a DPhil. He is now the director of the University of Toronto's Institute for Global Health Equity and Innovation and the founder and director of eHealth Innovation at UHN , a world-leading eHealth centre in Canada. Of Lebanese descent, he was...