'We are Research' disseminates the values of the work of the UB research teams
The Vice-rector of Research, Innovation and Knowledge Transfer of the University of Barcelona has produced the video 'We are Research', in order to disseminate the values of the excellent work carried out by the research teams of the UB. 'We are Research' is aimed at specialists as well as the general public and aims to reach especially future students and young researchers who want to participate in the enthusiasm, creativity, constancy and commitment of the research projects developed in the University of Barcelona.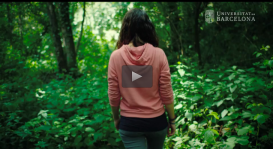 You may also be interested in...
The Universitat Oberta de Catalunya (UOC) has launched the first academic centre in southern Europe specializing in eHealth, the eHealth Center , at an act held in the Sala Europa of the Representation of the European Commission in Barcelona. The act was attended by Josep A. Planell , President of t...

On October 5th, the Open Innovation Forum will be held in Barcelona and organized by Fundació Bosch i Gimpera, Parc de Recerca UAB, la Universitat Politècnica de Catalunya, l'IQS Tech Factory, ACCIÓ and Expoquimia-World Chemical Summit. The Open Innovation Forum is an event that provides an opportun...

The Sketchfab platform now offers the graph database of the applied game Arrel, created by ICAC and the UAB and with the collaboration of the School of Architecture of Reus, Rovira i Virgili University (ETSA/URV). Focused on the architectural heritage of the Roman circus of Tarragona, it contains in...

The awards of the Social Council of the University of Barcelona and the Bosch i Gimpera Foundation for the transfer of knowledge and the creation of innovative companies celebrate their tenth edition. These awards aim to promote the return to society of the knowledge acquired through study and resea...