'Sustainable Development Goals: Actors and Implementation', a Report from the International Conference"
The first International Conference on Sustainable Development Goals: Actors and Implementation, which was organized by the Global University Network for Innovation (GUNi), took place from 18-19 September 2017 in Barcelona. Academics, researchers, policy-makers, managers, civil society organizations, governmental agencies and businesses convened to discuss and share knowledge on the implementation of Sustainable Development Goals (SDGs) from different fields of knowledge and geographical areas.
We are glad to announce that the report "Sustainable Development Goals: Actors and Implementation, a Report from the International Conference" is available on open access here. Up to 22 authors (including the Editorial Team) have contributed to the Report.
The Report provides the reader with a comprehensive picture of the discussions, topics and recommendations covered during the event. By going through this Report, you will find insights to a wide variety of topics within the Sustainable Development Goals (SDG), from higher education and Responsible Research and Innovation (RRI), to gender equality, governance or circular knowledge economy.  
The Report has been edited with the support of the Barcelona City Council, the Catalan Agency of Development Cooperation (ACCD) and the Research and Universities Secretariat of the Catalan Government (Generalitat de Catalunya).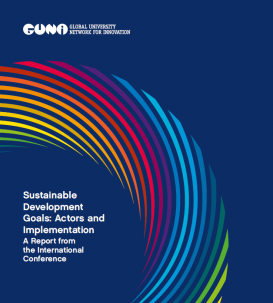 You may also be interested in...
International experts agree on the need for Science and Technology to go hand in hand with the Humanities to face present and future global challenges. This is the main conclusion that has been drawn at the International Conference on Humanities and Higher Education: Generating Synergies between...

On Wednesday December 12th 2018 at 7pm in the Auditorium of La Pedrera, the Center for UNESCO of Catalonia organized the event Transforming education to transform the world we live in , with the participation of Prof. Stefania Giannini, UNESCO Assistant Director-General for Education, the highest...

The 2030 Agenda requires effective collaborations between all stakeholders in order to achieve the seventeen Sustainable Development Goals (SDGs). Only through close collaboration, can there be any possibility of finding global solutions to the world's current and future challenges. Partnerships are...

On October 4th 2019, the Group of Experts presented its second publication devoted to the implementation of SDGs at Higher Education Institutions, in a public event at the Ateneu Barcelonès in Barcelona. More than 85 people attended the event, which promised to be an enriching experience and...