The European Citizens' Initiative underway "We are a welcoming Europe: let us help!"
The ACUP has adhered to the European Citizen Initiative "We are a welcoming Europe: let us help!" In order to achieve its processing, one million signatures of European citizens before 15 February 2019 (ideally before the end of years) are required in at least 7 member states of the European Union. For Spain, the minimum number of signatures to be reached is 40,000.
The Initiative has 3 main objectives:
- End the persecution of those citizens / organizations that want to help / decriminalize help
- Promote safe routes, among others, community sponsorship
- Guarantee effective access to justice for all victims of exploitation and abuse.
You can read the official translation that the European Commission of the Initiative has done here.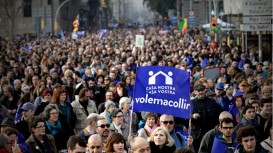 You may also be interested in...
The Catalana Assotiation of Public Universities and the Catalan Government participated, between the 27th of May and the 1st of June, at the NAFSA 2018 Annual Conference & Expo . The Association of International Educators (NAFSA) is the world's largest non-profit international association dedicated...

The European University Association ( EUA ) celebrates its 2018 Annual Conference , a space for debate that hosts the heads of the European university system. This year, the theme of the event is "Compromised and responsible universities that make up Europe". Pastora Martínez Samper , UOC Vice...

ACUP and the Interuniversity Council of Catalonia have organised the Catalan presence at the 13th annual conference and education fair of the Asia-Pacific Association for International Education (APAIE) , lead by the National University of Singapore and three local reception universities, from March...

On Thursday, February 15, ACUP and Scholars at Risk (SAR) organised a seminar on "Academic Freedom and Protection of Academic Refugees" at Pompeu Fabra University (UPF). The seminar began with the welcome by Josep M. Vilalta (Executive Secretary of the ACUP) and Pablo Pareja (Vice Chancellor of the...