The Catalan university system participates in the 29th annual conference of the EAIE 2017 in Seville
The Catalan university system, lead by the Catalan Government and ACUP, will participate in the 29th annual conference of the EAIE 2017 held in Seville, from September 12 to 15, 2017, with the participation of over 5,000 professionals from more than 80 countries around the world. The theme of this year's conference is 'A mosaic of cultures'. In this context, on the 14th at 2pm on the Catalan stand (No. A201) visitors will be invited to attend a glass of cava.
The Catalan university system regularly participates in the EAIE annual conference with its own stand: in 2009 in Madrid, in 2010 in Nantes (France), in 2011 in Copenhagen (Denmark), in 2012 in Dublin (Ireland), in 2013 in Istanbul (Turkey), in 2014 in Prague (Czech Republic), in 2015 in Glasgow, Scotland (UK) and in 2016 in Liverpool (UK).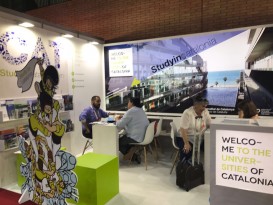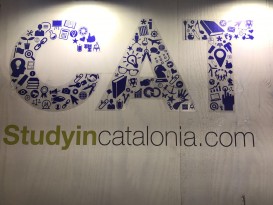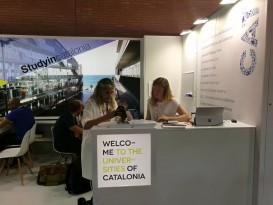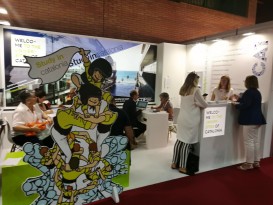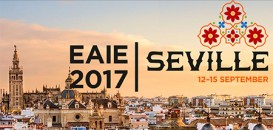 PREV
NEXT
You may also be interested in...
The Catalan university system, represented by the Secretary of Universities and Research of the Catalan Government, Francesc Xavier Grau , the general secretary of the Interuniversity Council of Catalonia (CIC), Lluís Baulenas , representatives of the universities and the ACUP, participate in the...

The Scholars at Risk (SAR) Global Congress 2018 was convened on April 23-26 at Freie Universität Berlin (Germany) with the collaboration of the same university and the Alexander von Humboldt Foundation . ACUP and the Catalan public universities joined the international network in June 2017. Since...

The European University Association ( EUA ) celebrates its 2018 Annual Conference , a space for debate that hosts the heads of the European university system. This year, the theme of the event is "Compromised and responsible universities that make up Europe". Pastora Martínez Samper , UOC Vice...

ACUP and the Interuniversity Council of Catalonia have organised the Catalan presence at the 13th annual conference and education fair of the Asia-Pacific Association for International Education (APAIE) , lead by the National University of Singapore and three local reception universities, from March...