The ACUP and the Government of Catalonia promote catalan public universities at the APAIE, the largest education fair in Asia
The Association of Catalan Public Universities (ACUP) and the Catalan government participate in the annual conference of the Asia-Pacific Association for International Education (APAIE), one of the world's largest education fairs and the major one in Asia which is held in Kaohsiung (Taiwan) from 20 to 23 March. The Catalan delegation, (representatives of ACUP, Catalan universities and the Generalitat of Catalonia) will attend various institutional visits on March 24 in Taipei.
The APAIE is an international non-profit organization, founded in 2004 at Korea University, Seoul, comprising university representatives of thirteen countries or regions in Asia-Pacific. Its main goal is to achieve greater cooperation between academic institutions of higher education, promote research and encourage and facilitate the exchange and internationalization of higher education in Asia and Pacific regions worldwide, and to promote and support the internationalization of its academic institutions. In this context, the Catalan delegation will present the Catalan university system, and its internationalization initiatives during the conference.
The ACUP universities and the Government of Catalonia aim is to promote the Catalan research and higher education system in the Asian market under the brand Study in Catalonia. The APAIE offers wide opportunities for educators and students to share strategies and mobility policies, development and cooperation on issues related to the internationalization of universities. The event, with over 100 stands and more than 1,000 delegates from university systems worldwide include, among other activities, workshops, exhibitions, networking events and visits to local universities.
Please see the Catalan delegation program (on the right)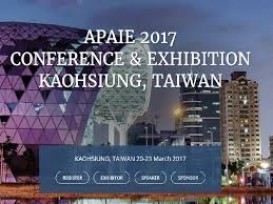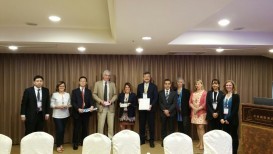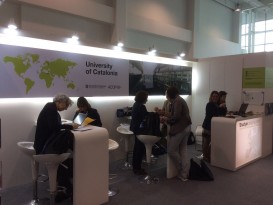 PREV
NEXT
You may also be interested in...
The Association of Catalan Public Universities (ACUP) has elaborated and presented the new Internationalisation Plan of the Catalan Public Universities for the period 2017-2020. The plan is a continuation of the previous one (2010-2015) although it rethinks global ideas and values in the present con...

GUNi has participated at the European Social Responsibility Days (#EUSRdays) , hosted yesterday and today at the European Parliament in Brussels and the Université Libre de Bruxelles (ULB). GUNi has presented the EC-funded HEIRRI , the 6th GUNi report 'Towards a Socialy Responsible University - bala...

The Catalan university system, lead by the Catalan Government and ACUP, will participate in the 29th annual conference of the EAIE 2017 held in Seville, from September 12 to 15, 2017, with the participation of over 5,000 professionals from more than 80 countries around the world. The theme of this y...

The Global University Network for Innovation is an International network created in 1999 within the framework of the UNITWIN/UNESCO Chairs Programme,...