International Conference 'Sustainable Development Goals: actors and implementation'
Add to Calendar
2017-09-18 00:00:00
2017-09-18 00:00:00
Congrés Internacional 'Objectius de Desenvolupament Sostenible: actors i implementació'
Europe/Madrid
public
17 goals to change the world! The International Conference on Sustainable Development Goals: actors and implementation is a leading international meeting aiming to create a permanent and multidisciplinary knowledge network on implementation of SDGs, where all stakeholders will learn from each other: universities, governments, cities and public agencies.
Held in Barcelona, Catalonia, from 18th to 19th September 2017, it will gather multidisciplinary experts and high-level practitioners from around the world to exchange knowledge, ideas, experiences and expectations around the challenges involved with the SDGs. Through a combination of speeches by renowned experts, round tables and thematic workshops, the conference wants to open a debate among the different stakeholders on solutions for a sustainable development to transform society at local and global level.
The International Conference is one of the activities organized by the Global University Network for Innovation (GUNi) in the frame of the International Summer School on Higher Education and Research Leadership. It aims to provide intellectual guidance and scientific evidences to the challenges of SDGs, with a humanist and critical thinking, promoting research and education to build a fair global community and more sustainable cities.
More information on the preliminary programme and speakers, here.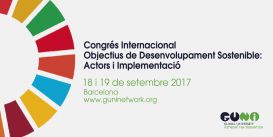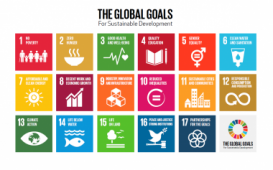 PREV
NEXT
You may also be interested in...
The international conference " From Higher Education For All towards SDG4: Building on achievements " took place last 8-9 October in Barcelona and was promoted by the International Association of Universities and the Jaume Bofill Foundation. During two days, participants worldwide commented on the...

More than 30 participants attended the 2nd Seminar on 'Education for Sustainable Development in graduate studies' held last July 9 at the Universitat Pompeu Fabra in Barcelona. This seminar was organized by the Fundació Autònoma Solidària in collaboration with ACUP, UPF Solidària, EduAlter and the...

On July 11th, the Sant Pau Art Nouveau Site will host the working seminar: "The role of universities towards the Sustainable Development Goals:...

On February 18 the constituent meeting of the working group on Education for Sustainable Development (ESD) attached to the Commission for Social Responsibility University (RSU) of the Catalan Association of Public Universities (ACUP) was held. Comprised of academic cooperation and development vice...
Related events
Lloc

CosmoCaixa Science Museum de Barcelona