Guide 3 - Profiguration, service learning and intergenerational relationships
2021
The Catalan Universities Service Learning Network (ApS (U) CAT Network) aims to exchange experiences and build new knowledge regarding the promotion, implementation, evaluation and institutionalization of service learning in the context of Catalan universities. .
In 2018, a framework of collaboration is established with the Catalan Association of Public Universities (ACUP), through which the visibility and consolidation of the Network is supported. The ACUP considers that this is a strategic line towards which the university must move forward and in which it wants to contribute actively.
"Guide 3 - Profiguration, Service Learning, and Intergenerational Relationships" raises questions about ApS in relation to concepts such as profiguration, active aging, creativity, and narrative. The Guide, available in Catalan i Spanish, includes a reflection about the service learning projects and the Sustainable Development Goals (SDGs).
This Guide is part of a collection of guides that delve into service learning in different areas and university contexts. The purpose of the guides is to build and disseminate knowledge about this methodology in the university.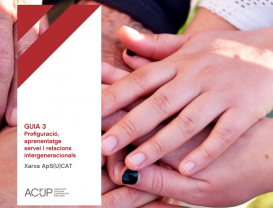 You may also be interested in...
David Bueno and Gemma Marfany claimed there is a need for dissemination, yesterday at the university during the ceremony in which they were awarded ex aequo the 6th Award of the Doctors' Senate and Board of Trustees to the best scientific and humanities dissemination activities. The ceremony was...

The Catalan Universities Service Learning Network (Xarxa d'Aprenentatge Servei de les Universitats Catalanes) is a young network created in July 2015...