Territorial Innovation Knowledge Platform (CTI Platform)
The Knowledge, Territory, Innovation Platform (CTI Platform) is a strategic project that offers a space for stable cooperation between agents to promote the socio-economic development of Catalonia.
The CTI Platform is a pioneering initiative that promotes the social progress, economic competitiveness and cultural vitality of Catalonia through stable cooperation between universities, companies, public administrations and civil society organizations.
Created in 2013 by the Catalan Association of Public Universities with the support of the Generalitat de Catalunya, Foment del Treball Nacional, PIMEC and "la Caixa", the CTI Platform now has the collaboration of many institutions, companies and entities based in the territory and has become a strategic node of analysis and work between agents to move forward together towards a knowledge society.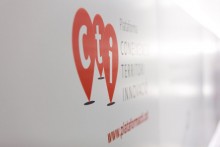 You may also be interested in...
The Catalan Association of Public Universities (ACUP) has initiated a collaboration with the CUIMPB - Ernest Lluch Centre. El CUIMPB Consotium Menéndez Pelayo Internacional Universitat of Barcelona - Ernest Lluch Centre is made up of the Menéndez Pelayo International University (UIMP), the Barcelona...

Today's societies are undergoing profound changes with clear consequences for the future. These environmental, scientific, technological, cultural and social transformations present momentous challenges in thinking and reflecting on the meaning and value of the human experience. These challenges can...

David Bueno and Gemma Marfany claimed there is a need for dissemination, yesterday at the university during the ceremony in which they were awarded ex aequo the 6th Award of the Doctors' Senate and Board of Trustees to the best scientific and humanities dissemination activities. The ceremony was...

The main objective of TeRRIFICA is to influence citizens to influence climate change mitigation and adaptation policies through a series of...