The UPC opens the 2020–2021 academic year at Catalan universities, on the occasion of the University's 50th anniversary
The opening ceremony of the 2020–2021 academic year at Catalan universities, which was hosted remotely by the Universitat Politècnica de Catalunya · BarcelonaTech (UPC) this year and featured speeches by the secretary for Universities and Research, Francesc Xavier Grau; the rector, Francesc Torres; the chair of the Board of Trustees, Ramon Carbonell; and the general secretary of the UPC, Margarida Espona, who presented a report on the 2019–2020 academic year at the University. The event was also attended by the general secretary for the Interuniversity Council of Catalonia, Josep Ribas i Seix.
Afterwards, there was a debate on the ethics of technology with Elisenda Bonet-Carne, the scientific head of BCNatal Fetal, and Jordi Sellas, the director of IDEAL Barcelona, the Digital Arts Centre, moderated by the La Vanguardia journalist Miquel Molina.
The event was broadcasted ive and open on the UPC's YouTube channel and UPCtv and it could also be followed on Twitter (@la_UPC). It marked the beginning of the UPC's 50th anniversary celebrations.
Imatges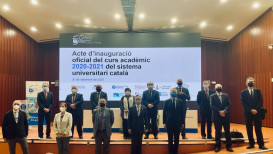 You may also be interested in...
Source: comms UdG Since this initiative was launched in 2012, the participation of the University of Girona in the Industrial Doctorate Plan has been advancing with a total of 54 awarded projects, 38 own researchers directing theses, 22 research groups involved and 13 theses. doctoral reads. The...

Source: comms UPF Now the EU's Horizon 2020 programme has come to an end, the University has obtained a total of 85.6 million euros of funding spread across 176 projects, that is to say, an increase of 16 and 24%, respectively compared to the previous FP7 programme. UPF, which has stood out for...

The Catalan Agency for Development Cooperation, in collaboration with the Directorate-General for Public Procurement and with the support of the Directorate-General for Development Cooperation, is organizing the second edition of the course on the external impact of public procurement on 'School of...

Source: UPC The rector of the Universitat Politècnica de Catalunya · BarcelonaTech (UPC), Daniel Crespo; the director of the School of Industrial, Aerospace and Audiovisual Engineering of Terrassa (ESEIAAT) of the UPC, Xavier Roca, and the co-founder and CEO of Grup Construcía, Arturo Fernández...