Sign up for UAB Open Days, Campus Visits and Visits to Education Centres
On 6, 7 and 8 February 2018 over 200 conferences in different teaching centres will be offered on all the UAB's bachelor's degrees, including new academic programmes. The conference will be given by UAB professors. It is the best way to discover first-hand the academic programme each student is interested in. Registration open.
 
Campus Visits
Visit the university: the teaching centres, campus, services, etc. These visits are different to those offered on Open Days: those interested do not sign up for a conference on bachelor's degrees, but have a whole morning to discover the UAB and its campus. Visits will take place from 10 a.m. to 1 p.m., Mondays to Fridays from November 2017 to June 2018. Registration open.
Family Days
On Saturday 5 May 2018 the university opens its doors to future students and their families as a way to discover the degrees offered, the campus and its buildings, and the services provided to all of the university community. This activity is focused on the faculties and the different degrees offered at each centre. It is a good opportunity to discover an exceptional campus alongside the family. Registrations will open during the month of January. More information.
Source: UAB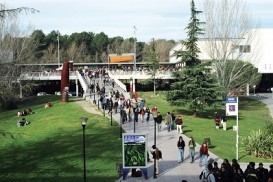 You may also be interested in...
The network Scholars at Risk (SAR) has released Free to Think 2017, an annual report analyzing 257 reported attacks on higher education communities in 35 countries, from September 1, 2016, to August 31, 2017. ACUP and its universities joined Scholars at Risk (SAR) on June 2017, in order to stand in...

UNESCO's World Conference on Higher Education is held every 10 years. This year it leaves Paris for the first time and we are hosting it in Barcelona. UNESCO trusted ACUP/GUNi to make this event possible in our country. The digital media of the Barcelona City Council have interviewed the Executive...

The Minister of Universities, Manuel Castells, is leaving the State Government after almost two years and will be replaced by the former Mayor of Barcelona, ​​Joan Subirats. Joan Subirats (Barcelona, ​​1951) is Professor of Political Science at the Autonomous University of Barcelona (UAB) and was...

The ACUP has organized the work session "Reforming the government of universities in a moment of change. The experience of the Université du Montréal (Québec)" with the collaboration of the Social Council of the Polytechnic University of Catalonia (UPC) in the historical building of the University...