Open Innovation Forum, meeting point between universities and business innovation
On October 5th, the Open Innovation Forum will be held in Barcelona and organized by Fundació Bosch i Gimpera, Parc de Recerca UAB, la Universitat Politècnica de Catalunya, l'IQS Tech Factory, ACCIÓ and Expoquimia-World Chemical Summit. The Open Innovation Forum is an event that provides an opportunity for companies to launch their challenges of innovation and research centers and groups to propose solutions to these problems.
The meeting is open to any company needs innovation to develop new products and services, or interest in exploring new opportunities for innovation; and research groups from universities and technology centers with interest in applying their research to the Catalan business.
Open Innovation Forum
Date: 5th October 2017
Venue: Fira de Barcelona (Gran Via)
More information: www.openinnovationforum.cat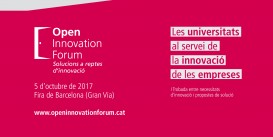 You may also be interested in...
Eight degrees offered by the Catalan public universities are among the Top 50 best in the World in their discipline according the Quacquarelli Symonds ranking (QS). This ranking annually analyzes the best universities in general terms but also by specialties, as is the case, paying special attention...

Pompeu Fabra University professors Jordi Alonso, Roderic Guigó and Àngel Lozano appear in the list of the world's most influential scientists published by Clarivate Analytics, a company that provides services in research, patents and other areas related to innovation. The Highly Cited Researchers...

Source: UPC The rector of the Universitat Politècnica de Catalunya · BarcelonaTech (UPC), Daniel Crespo; the director of the School of Industrial, Aerospace and Audiovisual Engineering of Terrassa (ESEIAAT) of the UPC, Xavier Roca, and the co-founder and CEO of Grup Construcía, Arturo Fernández...

The new website of the Reports on Indicators and Impacts of Catalan public universities is available at www.indicadorsuniversitats.cat The website includes the 9 reports published by the Catalan Association of Public Universities from 2011 to the present. Through the periodic publication of these...