LOESS: A new Horizon project to boost literacy on soil health across Europe
Under the EU Mission 'A Soil Deal for Europe' twenty European institutions started in June 2023 to work together to map and co-create methodologies and tools to improve soil literacy in Europe and engage with the soil user community and society at large
The Horizon Europe project LOESS: 'Literacy boost through an Operational Educational Ecosystem of Societal actors on Soil health' officially started in June 2023. Under the EU Mission 'A Soil Deal for Europe', twenty partner organizations will be joining efforts during three years to map, co-create, and test methodologies and tools in fifteen countries across Europe.
The final goal of the LOESS project is to raise awareness on the importance of soil and its functions and to increase soil literacy across Europe. For this purpose, the consortium will be working to map and connect multiple actors and provide an overview of the current level of soil education related offers; to identify educational needs on soil health literacy; and to co-create and pilot a variety of courses, modules and learning tools. Such tools and methodologies will be distributed by campaigning and promoting hands-on activities related to soil education through Community Engaged Research and Learning (CERL). All in all, LOESS will boost soil literacy by building an educational ecosystem that enhances capacity building, knowledge exchange and peer-to-peer learning amongst the addressed target groups.
Partners involved
The LOESS project will involve twenty institutions under the coordination of WILA Bonn:
Wissenschaftsladen Bonn e. V. (WILA Bonn), Germany - Project coordinator
European Schoolnet (EUN), Belgium
Vetenskap & Allmänhet (VA), Sweden
University of Innsbruck (UIBK), Austria
University of Sassari (UNISS), Italy
Justinmind SL (JIM), Spain
Technological University Dublin (TUD), Ireland
 University of Ss. Cyril and Methodius in Trnava (UCM), Slovakia
Wageningen University (WU), Netherlands
Center for Promotion of Science (CPN), Serbia
Social Innovation Institute (SII), Lithuania
Adam Mickiewicz University in Poznan (AMU), Poland
Controvento Società Cooperativa Sociale (ControV), Italy
Catalan Association of Public Universities (ACUP), Spain
ANS Education and Consultancy Ltd (ANS), Turkey
University of Brescia (UNIBS), Italy
 University of Vechta (UoV), Germany
APOPSI Information and Communication Technology, Consulting and Training Services S.A. (APOPSI), Greece
The Queen's University of Belfast, United Kingdom
Corvinus University of Budapest, Hungary
Key exploitable results and outputs
Through the implementation of a Crowd Mapping tool and providing the methodology and guidelines for implementing future problem-based research, LOESS will identify and address local soil problems and set up community-based research projects based on questions raised by multiple actors. Augmented Reality (AR) applications with 3D models, animations, simulations and interactive parts and training modules and courses for schools and Higher Education Institutes will be made available through target group and methodology focused campaigns.
__________________________________________________
Contact information:
Norbert Steinhaus - WILA Bonn (project coordinator)
+49.228.2016122
LOESS has received funding from the European's Horizone Europe research and innovation programme under the grant agreement No. 101112707
Imatges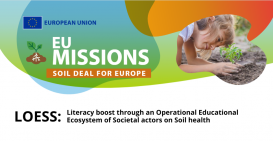 You may also be interested in...
The series of seminars Universities and Gender "Moving beyond diagnoses: gender equality and incorporation of female talent in higher education, research and university management" held on October 5 and 6, continues the collaboration between the CUIMPB-Centre Ernest Lluch and the Catalan Association...

On the 20th and 21st of June, the DECODE consortium met in Riga, Latvia, for the first in-person meeting. The ACUP team attended the gathering as leaders of the project dissemination and of the last Intellectual Output (IO) to be delivered, which will be executed in the coming months. Our Erasmus+...

From the 24th to the 26th of May ACUP-GUNi participated at the transnational project meeting of the SHEFCE project in Brussels. The meeting was held at the Vrije Universiteit Brussels (VUB) and around 10 participants from Croatia, Austria, Belgium, Ireland, and Spain participated representing the...

Between the 30th of May and the 1st of June, the TeRRIFICA Consortium has met in Poznan for an in-person meeting, the first since the Covid-19 pandemic started. The project, which is now coming to an end, has been an incredible experience filled with research, innovation, climate action and citizen...