The European Citizens' Initiative underway "We are a welcoming Europe: let us help!"
The ACUP has adhered to the European Citizen Initiative "We are a welcoming Europe: let us help!" In order to achieve its processing, one million signatures of European citizens before 15 February 2019 (ideally before the end of years) are required in at least 7 member states of the European Union. For Spain, the minimum number of signatures to be reached is 40,000.
The Initiative has 3 main objectives:
- End the persecution of those citizens / organizations that want to help / decriminalize help
- Promote safe routes, among others, community sponsorship
- Guarantee effective access to justice for all victims of exploitation and abuse.
You can read the official translation that the European Commission of the Initiative has done here.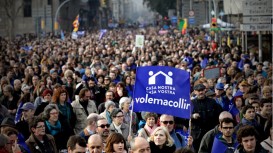 You may also be interested in...
The Catalan Association of Public Universities (ACUP) has recently joined as an associate partner in the CHARM European University alliance, led by the University of Barcelona (UB). The CHARM-EU (Challenge-driven, Accessible, Research-Based and Mobile European University) is an accessible, mobile...

With the "University, We Are Shelter" campaign, we want to respond to the misinformation and false myths surrounding refugees in order to deal with xenophobic discourses. Promoted by the UNHCR (UN Refugee Agency - Catalan Committee) and with the participation of Catalan public universities, the...

Universities play a major role in contributing to social transformation and sustainable development through three missions: training, scientific research and innovation. For the first time, this role is reflected in the formulation of the Sustainable Development Goals. In this context, Catalan...

The Catalana Assotiation of Public Universities and the Catalan Government participated, between the 27th of May and the 1st of June, at the NAFSA 2018 Annual Conference & Expo. The Association of International Educators (NAFSA) is the world's largest non-profit international association dedicated...