The COPERNICUS Alliance focuses its annual Meeting on Sustainability Assessment of Higher Education Institutions
On 25th November took place in Madrid the COPERNICUS Alliance Annual General Meeting 2015. The theme of this year's conference was the evaluation and assessment of higher education for sustainable development. Participants had the opportunity to present and discuss different models and systems of indicators which allows the measuring of progress on sustainability including research, teaching and the level of organization and governance of higher education institutions.
The COPERNICUS Alliance is a European Network on Higher Education for Sustainable Development which aims to improve education and research for sustainability in partnership with society. They also lead the Erasmus Plus project "University Educators for Sustainable Development".
For further information, please access here.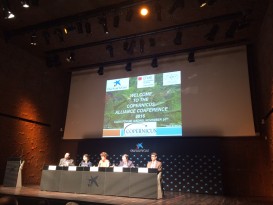 You may also be interested in...
On February 18 the constituent meeting of the working group on Education for Sustainable Development (ESD) attached to the Commission for Social Responsibility University (RSU) of the Catalan Association of Public Universities (ACUP) was held. Comprised of academic cooperation and development vice...

The international conference "From Higher Education For All towards SDG4: Building on achievements" took place last 8-9 October in Barcelona and was promoted by the International Association of Universities and the Jaume Bofill Foundation. During two days, participants worldwide commented on the...

More than 30 participants attended the 2nd Seminar on 'Education for Sustainable Development in graduate studies' held last July 9 at the Universitat Pompeu Fabra in Barcelona. This seminar was organized by the Fundació Autònoma Solidària in collaboration with ACUP, UPF Solidària, EduAlter and the...

Universities play a major role in contributing to social transformation and sustainable development through three missions: training, scientific research and innovation. For the first time, this role is reflected in the formulation of the Sustainable Development Goals. In this context, Catalan...