The Catalan public universities vindicate dialogue as the only possible way to face the situation in Catalonia
The undersigning, Rectors of Catalan public universities, before the current situation Catalonia is living, condemn the coercive episodes of the freedom of expression that are taking place in recent days.
We vindicate dialogue as the only possible way for understanding under democracy, stemming from the conviction that freedom of expression and respect to one another and to the law are essential and irrevocable pillars of democracy.
The universal vision that lays at the core of the university obliges to observe the most fundamental values underpinning coexistence and the rights of people. All authorities and institutions must act with scrupulous respect for these original values of democracy and freedom.
Margarita Arboix, rector of Universitat Autònoma de Barcelona (UAB)
Sergi Bonet, rector of Universitat de Girona (UdG)
Jaume Casals, rector of Universitat Pompeu Fabra (UPF)
Joan Elias, rector of Universitat de Barcelona (UB)
Roberto Fernández, rector of Universitat de Lleida (UdL)
Josep Anton Ferré, rector of Universitat Rovira i Virgili (URV)
Enric Fossas, rector of Universitat Politècnica de Catalunya (UPC)
Joan Anton Planell, rector of Universitat Oberta de Catalunya (UOC)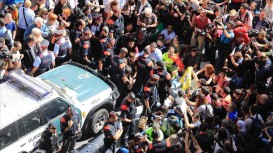 You may also be interested in...
Today, September 21, the highest authorities of all universities and research centres in Catalonia (some sixty institutions representing almost 90% of the system) have met to assess the situation created in Catalonia as a result of the actions of the Spanish State in recent days. Representatives of...

UNESCO's World Conference on Higher Education is held every 10 years. This year it leaves Paris for the first time and we are hosting it in Barcelona. UNESCO trusted ACUP/GUNi to make this event possible in our country. The digital media of the Barcelona City Council have interviewed the Executive...

Jaume Puy, rector of the University of Lleida, takes over from Javier Lafuente, rector of the Autonomous University of Barcelona, ​​at the head of the Catalan Association of Public Universities throughout 2021. This Tuesday, February 8, 2022, the new board of directors of the Catalan Association of...

The new website of the Reports on Indicators and Impacts of Catalan public universities is available at www.indicadorsuniversitats.cat The website includes the 9 reports published by the Catalan Association of Public Universities from 2011 to the present. Through the periodic publication of these...