Building bridges in RRI education
The EnRRICH project organized its 1st conference on June 22-24 in the framework of the Living Knowledge Conference. The event took place in Dublin and gathered professionals from all around the world to discuss about issues related to education, participatory science, policy, science shops, and the relationship between civil society organizations and universities, among many other topics.
HEIRRI was present at the conference too. On Tuesday 21st, Núria Saladié presented the project at the internal consortium meeting of EnRRICH, which gathered the EnRRICH team but also people from their Advisory Boards. Moreover, on Thursday 23rd, Nadja Gmelch delivered a speech in front of the whole conference at the plenary session, where she presented the GUNi network and HEIRRI. It was a great moment for the public dissemination of the project with target audience.
The conference was a fantastic opportunity to learn what the EnRRICH project has achieved until now. It was a very interesting event, full of self-reflecting sessions and workshops that promoted critical thinking and made participants deconstruct and learn about every day what we do and how we do it. Moreover, on the plenary session of Thursday, Rajesh Tandon, UNESCO Chair on Community Based Research and Social Responsibility in Higher Education, gave a speech, talking about Inclusion in a very inspiring talk.
HEIRRI and EnRRICH have many common points that are worth exploring in order to optimize time and resources. The EnRRICH conference helped to strengthen bridges between the two initiatives!
More information: http://www.livingknowledge.org/lk7/
Pitures of the Conference: https://www.facebook.com/livingknowledge2016/photos
Imatges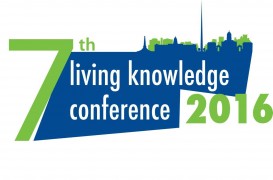 You may also be interested in...
The IAU 15th General Conference 'Higher Education: A catalyst for innovative and sustainable societies', held on 13-16th November 2016 in Bangkok, Thailand, focuses on sharing strategies and practices that demonstrate how higher education institutions contribute to innovation and sustainability. The...

The new HEIRRI database is now published online and available for everyone interested in RRI and RRI learning! The database compiles 23 exemplary cases related to RRI and RRI learning in higher education institutions, such as EU projects, different teaching/pedagogical approaches, programmes and...

The first conference of the European project HEIRRI (Higher Education Institutions and Responsible Research and Innovation), entitled "Teaching Responsible Research and Innovation at University", has gathered on March 18th more than 150 people from all over the world to discuss about the integration...

The second and last HEIRRI Conference celebrated in Vienna on April 27th 2018 has gathered around 150 people from 43 countries under the title "Education towards a responsible society, transforming universities through RRI". The event has been centred in discussing about RRI teaching and learning...