Viatges institucionals
One of the most important activities carried out by ACUP, within the International Relations Plan, is to promote the Catalan university system in the world and, at the same time, learn from other university systems.
Every year, ACUP organizes an institutional trip with the Secretary of Universities and Research in a different city to present the Catalan system and learn from the system of the country of destination with the aim of improving both and creating spaces of collaboration between universities. In addition, a few months before the trip, ACUP elaborates a precise document on the university system of the country of destination that analyzes the organization of the university system: basic country data, background, students, financing, governing bodies in universities, structure of studies, university governance, innovation and research system, internationalization and university-business cooperation. Institutional trips have been organized to countries such as Israel, the United States, the Netherlands, Austria, Denmark, Ireland, etc.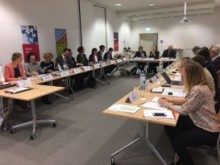 You may also be interested in...
The second and last HEIRRI Conference celebrated in Vienna on April 27th 2018 has gathered around 150 people from 43 countries under the title "Education towards a responsible society, transforming universities through RRI". The event has been centred in discussing about RRI teaching and learning,...

The European University Association ( EUA ) celebrates its 2018 Annual Conference , a space for debate that hosts the heads of the European university system. This year, the theme of the event is "Compromised and responsible universities that make up Europe". Pastora Martínez Samper , UOC Vice...

The Association of Catalan Public Universities (ACUP) has elaborated and presented the new Internationalisation Plan of the Catalan Public Universities for the period 2017-2020. The plan is a continuation of the previous one (2010-2015) although it rethinks global ideas and values in the present...

The Association of Catalan Public Universities (ACUP) and the Catalan government participate in the annual conference of the Asia-Pacific Association for International Education (APAIE) , one of the world's largest education fairs and the major one in Asia which is held in Kaohsiung (Taiwan) from 20...