The Mastermind Europe project in Barcelona
On Wednesday, April 20, the Consortium meeting of the Mastermind Europe project takes place at the Modernist Art Nouveau site in Barcelona. There will be representatives from ten partners of the project, including the VU Amsterdam, ACA, Hochschulrektorenkonferenz (HRK), University of Helsinki and Study Portals.

On Thursday, there will be a training sesion for trainers in order to create an Expert Pool on how to improve the processes for admission to Master's programs tailored to the Higher Education institutions. Tomorrow will also begin the second Focus Group Meeting, which will last until
On Wednesday, April 20, the Consortium meeting of the Mastermind Europe project takes place at the Modernist Art Nouveau site in Barcelona. There will be representatives from ten partners of the project, including the VU Amsterdam, ACA, Hochschulrektorenkonferenz (HRK), University of Helsinki and Study Portals.
On Thursday, there will be a training sesion for trainers in order to create an Expert Pool on how to improve the processes for admission to Master's programs tailored to the Higher Education institutions. Tomorrow will also begin the second Focus Group Meeting, which will last until Friday afternoon. The meeting will involve twenty Master program managers from Catalonia, but also from Italy and the Netherlands. The group will discuss the admissions process and how to use the guidelines developed under the project in order to achieve an appropriate selection of students. The aim is to provide knowledge and ideas to design and implement a competency-based admission.
The Mastermind European project is an Erasmus Plus Programme, coordinated by the University of Amsterdam (Amsterdam Vrije Universieit) with the participation of the Academic Cooperation Association (ACA), the Conference of German Rectors and Higher Education institutions from Austria, Finland, Italy, Lithuania and Slovenia. The aim of the ACUP participation in this project is to improve national and European mobility of master's students, moving from a model of admission based on the recognition of qualifications towards a competency-based admissions' one. The project runs for three years and within its frame ACUP is responsible for organizing two focus groups of master coordinators from France, Spain and Portugal in order to assist them with the preparation of an action plan to promote skills-based admission in their institutions.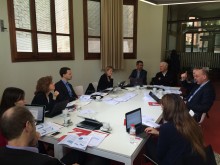 You may also be interested in...
Mastermind Europe was set up to respond to the need for a better way to decide which students are suitable for which Master's programme. Fewer and...

Catalan public universities, together with the other universities in the higher education system of Catalonia, have participated in the Conference of the European Association for International Education (EAIE) "Community Exchange" which was held from 14 to 16 October 2020 in virtual format...

Universities play a major role in contributing to social transformation and sustainable development through three missions: training, scientific research and innovation. For the first time, this role is reflected in the formulation of the Sustainable Development Goals. In this context, Catalan...