The Catalan public universities and the Sustainable Development Goals
In September 2015 the international community agreed to the headquarters of the United Nations Agenda 2030 and its respective 17 Sustainable Development Goals (ODS), a roadmap to face the challenges of the world.
ODS cover a wide range of issues, from gender equality, poverty, hunger, responsible consumption, climate change and justice, and are broken down into 169 goals by 2030. ODS are universal (targeted at all countries), global (addressing local, national and transnational challenges), integral (interconnected), measurable (to be able to control the achievements through indicators), ambitious, inclusive and multidimensional (economic, social and environmental).
For the first time in an international development agenda, reference is made to higher education. The ODS on education "ODS 4: ensuring inclusive, equitable and quality education and promoting lifelong learning opportunities for all" refers explicitly to it and therefore higher education institutions are called to develop a essential role in the dissemination and application of Agenda 2030. Through the web, the Catalan public universities want to show the society examples and cases of their contribution to the achievement of each one of the ODS through its activity and scientific research.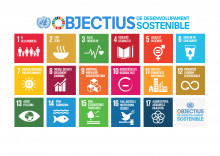 You may also be interested in...
David Bueno and Gemma Marfany claimed there is a need for dissemination, yesterday at the university during the ceremony in which they were awarded ex aequo the 6th Award of the Doctors' Senate and Board of Trustees to the best scientific and humanities dissemination activities. The ceremony was...

The 2030 Agenda requires effective collaborations between all stakeholders in order to achieve the seventeen Sustainable Development Goals (SDGs). Only through close collaboration, can there be any possibility of finding global solutions to the world's current and future challenges. Partnerships are...

The Catalan Universities Service Learning Network (Xarxa d'Aprenentatge Servei de les Universitats Catalanes) is a young network created in July 2015...

Project to promote a shared vision of the ESD in the Catalan university system and help to create structures that facilitate the introduction to...