Open Innovation Forum, meeting point between universities and business innovation
On October 5th, the Open Innovation Forum will be held in Barcelona and organized by Fundació Bosch i Gimpera, Parc de Recerca UAB, la Universitat Politècnica de Catalunya, l'IQS Tech Factory, ACCIÓ and Expoquimia-World Chemical Summit. The Open Innovation Forum is an event that provides an opportunity for companies to launch their challenges of innovation and research centers and groups to propose solutions to these problems.
The meeting is open to any company needs innovation to develop new products and services, or interest in exploring new opportunities for innovation; and research groups from universities and technology centers with interest in applying their research to the Catalan business.
Open Innovation Forum
Date: 5th October 2017
Venue: Fira de Barcelona (Gran Via)
More information: www.openinnovationforum.cat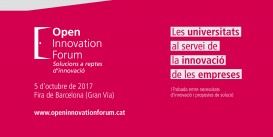 You may also be interested in...
The Universitat de Barcelona (UB) , the Universitat Autònoma de Barcelona (UAB) and the Universitat Pompeu Fabra (UPF) are among the top 300 universities in the world according to the prestigious Times Higher Education World University Rankings 2016 . The UAB appears in the position 163 (last year w...

The Universitat Oberta de Catalunya (UOC) has launched the first academic centre in southern Europe specializing in eHealth, the eHealth Center , at an act held in the Sala Europa of the Representation of the European Commission in Barcelona. The act was attended by Josep A. Planell , President of t...

The network Scholars at Risk (SAR) has released Free to Think 2017 , an annual report analyzing 257 reported attacks on higher education communities in 35 countries, from September 1, 2016, to August 31, 2017. ACUP and its universities joined Scholars at Risk (SAR) on June 2017, in order to stand in...

The HEIRRI project calls on higher education institutions from all continents interested in Responsible Research and Innovation and its integration into the curricula for a pilot test of two of the training programs and materials developed by the HEIRRI project. The selected institutions will pilot...