ACUP presents the #UniversitatsRefugi campaign in Brussels
The Association of Catalan Public Universities took part on Thursday, December 10, 2015 on the 48th European Seminar of the Academic Cooperation Association (ACA) held in Brussels. The central issue of the Seminar was "The international refugee crisis. What role for European higher education?". The ACUP project manager Nadja Gmelch participated at the round table "Institutional initiatives - from mobilization to integration" and presented the #UniversitatsRefugi campaign and the similar initiatives that the Catalan public universities promote.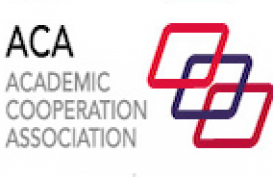 PREV
NEXT
You may also be interested in...
The Association of Catalan Public Universities (ACUP) promotes and facilitates the active involvement of communities in their initiatives and actions related to the reception of refugees arrived to Catalonia. Talks on the Syrian conflict, to facilitate newcomers access to academic activities or to...

On October 13, the Association of Catalan Public Universities organizes, the presentation of the "Catalan universities refugees" through which universities express their commitment to work together in favour of refugees. The event will include the participation of the president of the ACUP, Enric...

This GUNi International Conference aims to be an international meeting to debate on the role of the humanities, and the interrelation between humanities, science and technology in the 21st Century with a special focus on Higher Education. The main objective of the Conference is to open a worldwide...

ACUP and its universities –as network partner- have joined Scholars at Risk (SAR), a network of over 400 higher education institutions in 39 countries working to protect threatened scholars, prevent attacks on higher education and promote academic freedom. By joining SAR, we stand in solidarity with...
Related events
Lloc

CosmoCaixa Science Museum de Barcelona