ACUP presents the #UniversitatsRefugi campaign in Brussels
The Association of Catalan Public Universities took part on Thursday, December 10, 2015 on the 48th European Seminar of the Academic Cooperation Association (ACA) held in Brussels. The central issue of the Seminar was "The international refugee crisis. What role for European higher education?". The ACUP project manager Nadja Gmelch participated at the round table "Institutional initiatives - from mobilization to integration" and presented the #UniversitatsRefugi campaign and the similar initiatives that the Catalan public universities promote.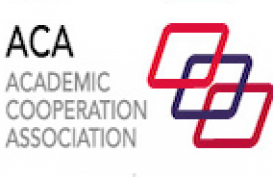 PREV
NEXT
You may also be interested in...
The Association of Catalan Public Universities (ACUP) promotes and facilitates the active involvement of communities in their initiatives and actions related to the reception of refugees arrived to Catalonia. Talks on the Syrian conflict, to facilitate newcomers access to academic activities or to...

On October 13, the Association of Catalan Public Universities organizes, the presentation of the "Catalan universities refugees" through which universities express their commitment to work together in favour of refugees. The event will include the participation of the president of the ACUP, Enric...

The ACUP has adhered to the European Citizen Initiative " We are a welcoming Europe: let us help! " In order to achieve its processing, one million signatures of European citizens before 15 February 2019 (ideally before the end of years) are required in at least 7 member states of the European Union...

The Catalan university system, represented by the Secretary of Universities and Research of the Catalan Government, Francesc Xavier Grau , the general secretary of the Interuniversity Council of Catalonia (CIC), Lluís Baulenas , representatives of the universities and the ACUP, participate in the...